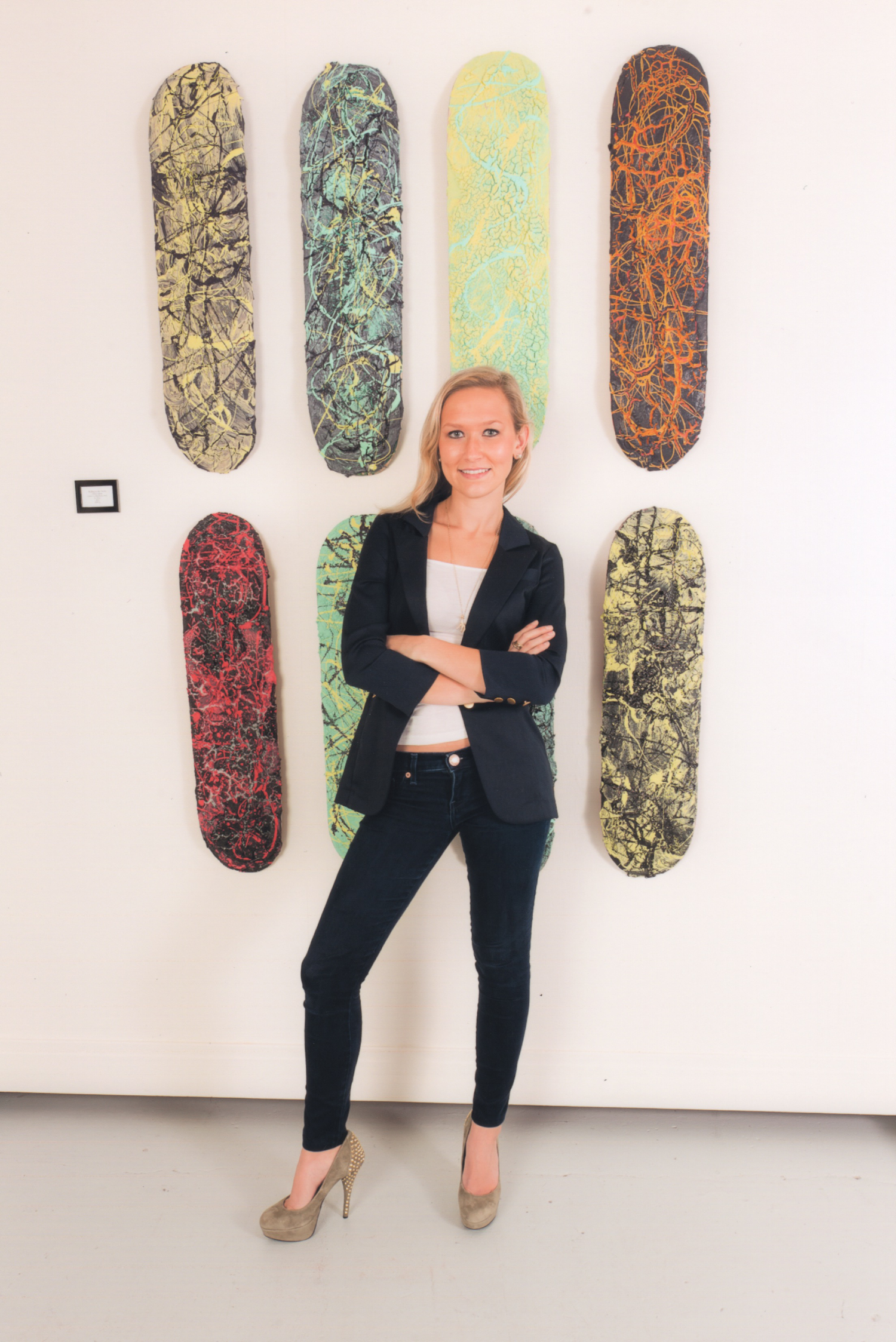 "The relationship between the fluidity and rigidness within my paintings is meant to cultivate a feeling of the unknown mixed with an emotional connection to color, texture and chance. Just as one can find himself or herself lost when traveling without a map, it is my hope that one can become lost in my work while enjoying the colors, texture and shapes they encounter as their eyes roam the canvas. My paintings let the viewer decipher what is happening.
My work is created with a variety of acrylic paint colors mixed with a special medium. As my mixture begins to dry, it expands and has a unique one of a kind reaction. This allows the surface I create to flow freely and become a surface of its own.
 I utilize specific color combinations to create a palette that I think best suits the landscape of the plane. The medium, when complete, creates an explosion of color, allowing the viewer to see the uncontrolled and undulated work. I create my paintings for the love of solitude and exploration. They are my escape, a release of my emotions.
It is my hope that my work creates a world on the canvas that both mirrors and exudes, the beauty of the world in which we live."
---
Allison Osborn grew up on the shores of Lake Maxinkuckee in Culver, Indiana. With views of inspiration always around her, she naturally gravitated to the visual arts. She received her Bachelor of Fine Arts in Painting with a concentration in Curatorial Studies from Maryland Institute College of Art, where she graduated Cum Laude in 2011.
In her career, she has participated in several group shows and has had five solo shows. She exhibited at Chicago's Harper Gallery in 2010 and was represented by Robin B Gallery from 2013 to the summer of 2014. In 2012, Allison was voted Best Visual Artist in Chicago and was a National Finalist when competing in the RAW Artist Competition. In 2014, Allison was also featured in the Material Girls Blog and the nationally known, Peachy Magazine, while showcasing her work at Buckingham Interior Design. Also in 2014, Allison had the opportunity to work with Adidas' marketing firm to create artwork for their Chicago showroom. She also has paintings placed in landmark building such as The Aqua Building and The Trump Tower, both located in Chicago.
Allison has collectors both nationally and internationally, including West Africa and London, and has been commissioned for custom pieces by a NHL player and one of New York Yankee's Owners.
Artists such as Georgia O'Keefe, Jackson Pollock, Mark Rothko, Robert Motherwell, William De Kooning, Joan Mitchell, Barnett Newman, Henri Matisse and William Turner inspire her.